Circle Fiber Names Allison Brune-Evans to New Post

Brune-Evans To Lead Circle Fiber's Marketing Communications Efforts In Southeast Missouri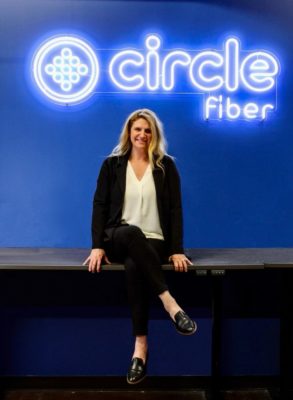 Tuesday, March 15, 2022,photo credit-Circle Fiber Media, Courtney Cruz. Marketing Communications Manager Allison Brune-Evans sitting in Circle Fiber's state-of-art technology lab, the Annex, located on the second floor of the Big River Communications building in Cape Girardeau, MO. 
Cape Girardeau, MO, March 16, 2022–Circle Fiber, Southeast Missouri's premiere fiber optic internet provider, announced Allison Brune-Evans as its Marketing Communications Manager. In her role, Brune-Evans will be responsible for promoting Circle Fiber to potential and existing customers.
"We wanted someone with area ties and a track-record of success in multiple areas of marketing, said Circle Fiber President Chris Simmons. Allison's experience is second to none, especially in the fields of digital sales, marketing and corporate communications. Combine that with her years of large metro market impact and we knew she was the perfect fit for our organization and culture. We are excited for her to tell our story."
Brune-Evans holds a Bachelor of Creative Arts and Journalism Degree with a Public Relations emphasis from the University of Mississippi. She is native to Cape Girardeau with two decades of experience in national, regional, and local multi-media marketing, public relations and corporate sales. Prior to joining Circle Fiber, she worked as a consultant for regional franchises, tech start-ups, non-profits, municipalities, and family-owned small businesses.
"Circle Fiber is a community forward, customer first organization and that deeply resonates with me, said Brune-Evans. I'm proud to be part of their core mission to bring faster, more reliable internet solutions to the businesses and families in Southeast Missouri. I look forward to becoming the voice of the Circle Fiber brand as we deepen our relationships with the customers in our region."